Are you ready for this?
It's the Swift you love taken to the next level. Yet again new Swift raises the safety, ups the style and maximises pure driving enjoyment. Combining dynamic performance and outstanding fuel efficiency, with advanced driver assistance technology and a light, airy cabin, you're free to navigate your life with ease. So amp up the fun – Swift is here!
To find out more about Suzuki Swift's safety record, please click here
TECHNOLOGY REINVENTED
SMARTPHONE CONNECTIVITY
Full smart phone integration
EXCEPTIONAL FUEL EFFICIENCY
4.6 LITRES PER 100KM*
Kind on your Pocket and the environment.
*results for GL Manual combined cycle.
ADVANCED SAFETY
DUAL SENSOR BRAKE SUPPORT
Protecting your most valuable cargo
Safety sorted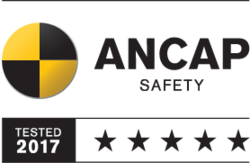 To help support your safe driving, Suzuki has developed an Advanced Forward Detection System* (RS). This new system employs a state-of-the-art monocular camera, laser sensor, and millimetre-wave radar with the aim of assisting you to avoid a collision or minimise the damage.
The Advanced Forward Detection System includes:
Dual Sensor Brake Support
Lane departure warning system
Weaving alert
Headlamp high beam assist
Adaptive cruise control
For extra driver assistance the Swift RS features blind spot monitor and rear cross traffic alert.
Other safety features on Swift include six SRS airbags, ESC, ABS with EBD, and Brake Assist.
*Please do not rely on the Advanced Forward Detection System. It is an aid only and the ability to detect obstacles, lanes and control the vehicle is limited. Always drive safely.
Step up your style
Rolling on crafted 16-inch alloy wheels with LED daytime running lamps, the new Swift is all about making an impact. Loving the attention, its hidden pillar-mounted rear door handles add a sporty coupé look with 5-door practicality.
Dial up the freedom
Light, modern, intuitive - Swift's fresh interior combines intelligent design with the latest technology to make driving all about the journey. Control and comfort are at your fingertips with features such as touchscreen Sat Nav system with Apple CarPlay, Android Auto™* and reverse camera (Autos).So what are you waiting for? Jump in – this is where the real fun begins!
**Check the compatibility of your device at www.apple.com or wwww.android.com. Apple and CarPlay are trademarks of Apple Inc. AndroidAuto is a trademark of Google Inc.
Make it your own
Go wild, get creative and add your unique personal touch. Discover the range of smart and practical accessories to make your new Swift a whole lot more special.
Break out the moves
Pack your bags for an adventure in the new Swift. You'll enjoy the journey as much as the destination with its cleverly designed, roomy cabin. With ample storage spaces and flexible seating and luggage space it's perfect for getaways, shopping sprees and those pickups and drop offs. Take who you want – and what you want, and have all the fun you want!
Take it up a notch
The Swift delivers performance you can feel – quick acceleration, planted cornering and smooth suspension. It's everything you want as you face a sweeping bend or wide open road. With a choice of a 1.2 DualJet engine (GL) or turbocharged BoosterJet engine (RS), you're in for an extraordinarily efficient and exhilarating drive.
To find out more about the BoosterJet, please click here.
Swift efficiency
Lightweight and quick, the Swift continues to exceed all expectations when it comes to fuel saving economy. Low on emissions at 106-119g/km and cost-effective at the pump, this Swift is as affordable and as environmentally friendly as ever.
4.6L/100km*
Swift GL Manual
4.8L/100km*
Swift GL Auto
5.1L/100km*
Swift RS Auto
Other Small Cars combined fuel economy figure of 4.8 L/100 km is an average of all competitors in the Light Cars segment for 2021 according to the NZTA. *ADR 81/02 results for combined cycle. Fuel consumption will vary due to factors such as vehicle condition, driving style and traffic conditions. Fuel economy and CO2 emission results are from official NEDC assessments.
See the Range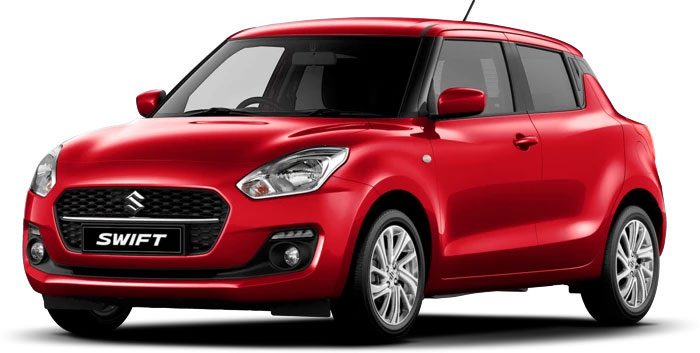 Swift
GL Manual
$21,490+ORC
Clean Car Neutral
Cruise control & speed limiter
Bluetooth® handsfree connectivity
LED daylight running lamps
4.6 Litres of fuel per 100km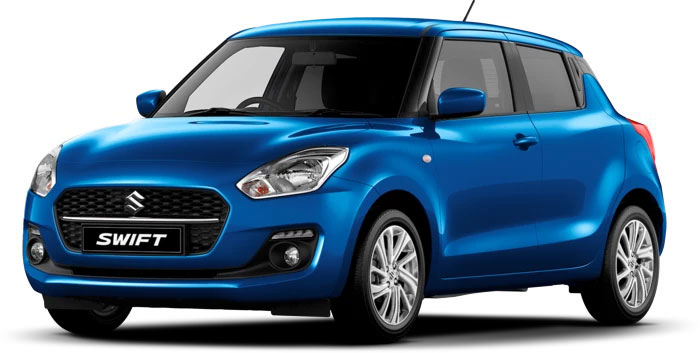 Swift
GL Auto
$24,990+ORC
Clean Car Neutral
Touch-screen Sat Nav with reverse camera
Cruise control & speed limiter
Bluetooth® handsfree connectivity
LED daylight running lamps
4.8l/100kms (NEDC)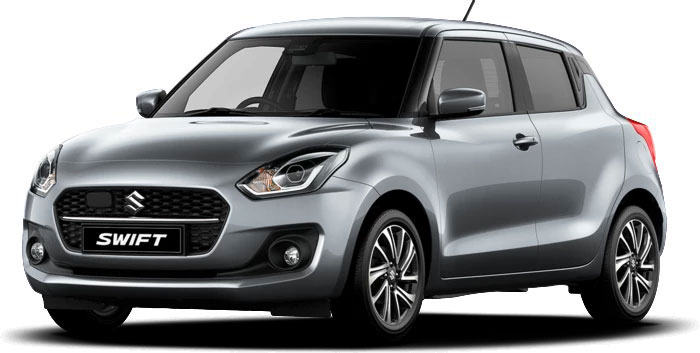 Swift
RS Auto
$29,990+ORC
Clean Car Neutral
BoosterJet advanced turbo engine
Full smart phone integration
Adaptive cruise control
Dual sensor brake support
Lane departure warning
16 inch alloys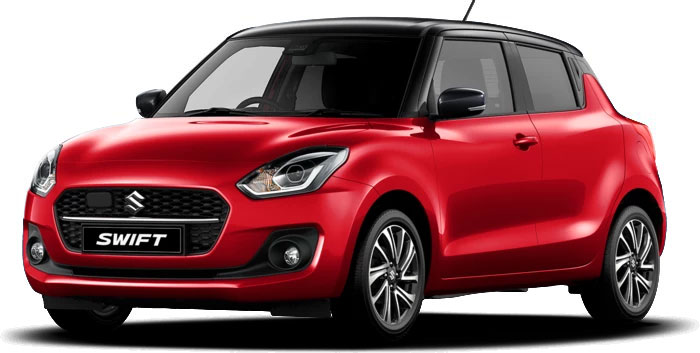 Swift
RS Two Tone
$30,500+ORC
Clean Car Neutral
BoosterJet advanced turbo engine
Full smart phone integration
Adaptive cruise control
Dual sensor brake support
Lane departure warning
16 inch alloys