Ready to play?
The Vitara is a playful SUV packed with smart technology so when you're in the mood for fun, it's ready to deliver! Sporting a hot new look and the latest technology the Vitara once again sets the bar for off-road performance, ease of use, and fuel efficiency.
Smartphone Connectivity
Technology reinvented
Full smart phone intergration
5.8 Litres Per 100KM*
Exceptional Fuel Efficiency
Kind on your pocket and environment *ADR 81/02 results for 2WD manual combined cycle (NEDC)
Dual Sensor Brake Support
Advanced Safety
Protecting your most valuable cargo
Power Play
Nothing beats the feeling of freedom and fun that you get from the Vitara, and thanks to Suzuki's unmatched engine expertise, there's no trade-off between performance and efficiency. Boasting a 1.6 VVT or the incredible BoosterJet Turbo, the Vitara offers agile performance in the city, effortless open road cruising, and plenty of off-road muscle when it's time to play. The Vitara offers all the performance and power of an SUV with the fuel efficiency you'd expect from a compact car
To find out more about the boosterjet, please click here.
Play it safe
Having fun shouldn't be risky business so thanks to a combination of TECT body design, 7 airbags and a suite of electronic systems including ABS with electronic brakeforce distribution and hill hold control (Auto), the Vitara offers exceptional driver and passenger protection and sports a 5 star ANCAP safety rating.
The Vitara Turbo also comes with a suite of advanced safety technology including:
Dual Sensor Brake Support
Lane departure warning
Weaving alert
Adaptive cruise control
Blind spot monitoring
Rear cross traffic alert
Reverse camera
*Please do not rely on the Advanced Forward Detection System. It is an aid only and the ability to detect obstacles, lanes and control the vehicle is limited. Always drive safely.
Play in style
The Vitara's bold design combines rugged SUV presence with refined 17-inch alloy wheels, sparkling LED daytime running lights, and rear privacy glass ensuring you look right at home whether cruising around town or playing further afield.
Just push play
Feeling playful? It's the roads less travelled where the Vitara really shines!
Behind that stylish exterior hides a very capable off-road performer with ALLGRIP technology to maximize the performance of the transmission, engine, and safety systems depending on road surfaces and driving conditions. With four ALLGRIP SELECT modes you can easily modify the Vitara's handling with a flick of a dial.
To find out more about all grip, please click here.
Play your way
Whether you are looking for a few final touches for the interior or more significant enhancements for the exterior, there is no shortage of choice, or opportunities, to make the Vitara truly your own.
Play with ease
The Vitara's host of infotainment features are all designed with your convenience in mind. The 7 inch touch screen display allows you to easily control your music, Sat Nav, Bluetooth, and Apple Carplay® or Android Auto™. Audio, handsfree, and cruise controls can be found on the steering wheel letting you take calls and change songs without taking your eyes off the road.
Play in comfort
Whether you're heading to work or play, driving the Vitara is pure pleasure. Elegant lines, subtle curves, and chrome contrasts tie together the Vitara's unique interior styling with an air of elegance, which is only enhanced with its leather bound steering wheel and suede and synthetic leather interior in the Turbo models.
Play for longer
A high-riding, roomy SUV with the fuel efficiency normally associated with a compact car at 5.8L/100kms*, the economical Vitara fits in a lot more adventure between fills. Plus, with a suspension tuned to ensure the best possible combination of stability, comfort and quietness, you are ready to head down any road.
Available in either smooth-shifting 5-speed manual or the newly developed 6-stage automatic.
*ADR 81/02 results for combined cycle. Fuel consumption will vary due to factors such as vehicle condition, driving style and traffic conditions.
5.8L/100km*
Vitara JLX 2WD Manual
6.2L/100km*
Vitara JLX 2WD Auto
6.5L/100km*
Vitara JLX AWD Auto
5.9L/100km*
Vitara Turbo 2WD Auto
6.2L/100km*
Vitara Turbo AWD Auto
See the Range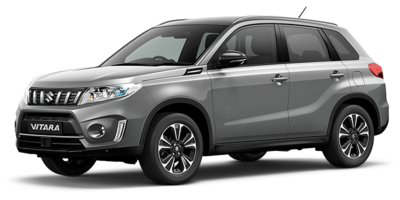 Vitara
Turbo 2WD Auto
$35,990+ORC
Plus Clean Car Fee $747.50
BoosterJet advanced turbo engine
Keyless entry & push button start
Leather & suede type fabric
Full smart phone connectivity
9-inch Touchscreen
Reverse camera & rear parking sensors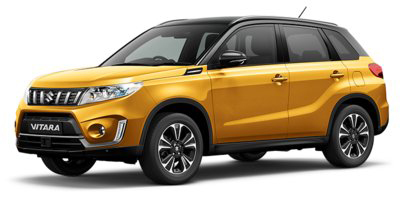 Vitara
Tubro 2WD Two Tone
$36,790+ORC
Plus Clean Car Fee $747.50
BoosterJet advanced turbo engine
Keyless entry & push button start
Leather & suede type fabric
Full smart phone connectivity
9-inch Touchscreen
Reverse camera & rear parking sensors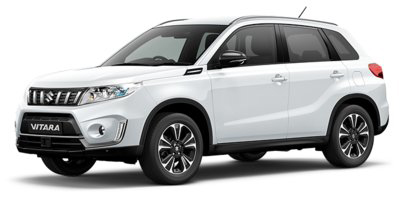 Vitara
Turbo AWD Auto
$39,990+ORC
Plus Clean Car Fee $1,207.50
ALLGRIP AWD drive system
BoosterJet advanced turbo engine
Keyless entry & push button start
Leather & suede type fabric
Full smart phone connectivity
9-inch Touchscreen
Reverse camera & rear parking sensors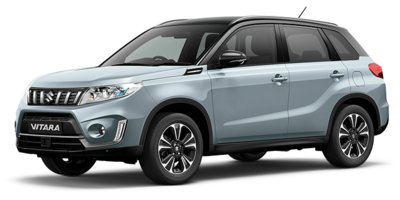 Vitara
Turbo AWD Two Tone
$40,790+ORC
Plus Clean Car Fee $1,207.50
ALLGRIP AWD drive system
BoosterJet advanced turbo engine
Keyless entry & push button start
Leather & suede type fabric
Full smart phone connectivity
9-inch Touchscreen
Reverse camera & rear parking sensors